The Occupy Wall Street movement more effectively addresses the cause of the financial crisis than economists and discussions in the mainstream press. Further, this movement embodies democratic solutions for a way beyond the crisis. This essay focuses on Occupy Wall Street's facilitating of political action from disparate, heterogeneous partisans; increasing of transparency and participation in decision-making; and relying upon both human-scaled and participatory technologies. Through these processes, the Occupy Wall Street micro-community embodies a vision for a pluralistic, direct democratic society and demonstrates it through practice.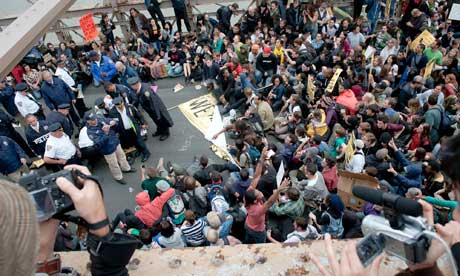 Three years into an economic recession that rivals the Great Depression, economists are scrambling for explanations of its origins and the steps to take. While there is much hemming and hawing over causes, and plenty of caution and hesitation over solutions – especially those that might impinge on profits at financial institutions – tens of millions of Americans are unemployed, and just as many are in nearly catastrophic situations. But one would be in error to expect economists to focus on this group of Americans that outnumber the entire population of any member state in the European Union. "They're happy to take the credit in the good times, but the disciples of this false science are hard to find in a recession" (Jenkins, 2009).
On September 17, 2011, several hundred activists marched to Wall Street, near the New York Stock Exchange. This was the beginning of an uprising now known as Occupy Wall Street. This broad group of citizens, who claim to be united by being "the 99%" against the corporate influence in American politics, was more clear in assigning blame for the financial crisis: it belongs to the top 1%. This group quickly grew to several thousand protestors who took control of Zuccotti Park. They expressed concerns ranging from access to medicine and healthcare to oil spills, truth in media to internal colonialism and imperialism, weapons to healthy food, and animal rights to the rights of children (General Assembly, 2011). Three weeks later, the park remains occupied, and the movement has inspired over 1100 other solidarity protests and occupations throughout the world, mostly in the United States (Occupy Together, 2011).
These heterogeneous groups have a functioning pluralism, whereas "liberal democratic states have not sufficiently practiced it" (Lindblom, 1986, p. 352). Perhaps the lack of familiarity with authentic pluralism is what has inspired perplexity toward the movement, especially among journalists. Most media pundits express exasperated confusion by this diverse group of interests expressed by an even more visibly diverse group of activists and citizens. Commentators on FoxNews complain about the lack of a cohesive message and clearly stated goals. The New York Times ran a story on the "faulty aim" of the movement, condemning its "lack of cohesion and its apparent wish to pantomime progressivism rather than practice it knowledgably" (Bellafante, 2011).
FoxNews reporter Griff Jenkins asked protestor Jesse LaGreca, "how do you want to see this [end]? If you could have it in a perfect way, how would it be?" LaGreca replied, "I wouldn't like to see this end. I would like to see the conversation continue" (Grant, 2011). This micro-community has come to represent a parallel political model based on direct democracy and rooted in affinity. Whereas commentators and reporters – as well as their viewing public – are accustomed to responding to protest marches and demonstrations expressing the politics of specific cause and populated by a group of citizens defined by a narrowly specified aim, Occupy Wall Street engenders the all-embracing meeting point of partisans. At this juncture, the people are united by a politics of negativity: in identifying a common enemy in the ruling elites; and a politics of practice: pluralist, direct democracy. So in this sense, as LaGreca commented, there is no end. Even if the politics of negativity is transcended with the actual removal of corporate influence in governance, the process remains. This is a model of change exemplified by "the newest social movements" that seeks to generate a living, nonhegemonic model of politics as a revolutionary process, in contrast to that which would see the seizure and control of state power (Day, 2005; Al-Jazeera, 2011). As Lindblom reminds us, "no social scientist or researcher can tightly derive short-run or middle-run interim steps from a model of a far-distant, wholly harmonious society…" (Lindblom, 1986, p. 364). Occupy Wall Street appears to embrace Agamben's expression of "a politics and a life that are yet to be entirely thought" (2000, p. 111).
Douglas Rushkoff explains that "It is difficult to comprehend a 21st century movement from the perspective of the 20th century politics, media, and economics in which we are still steeped" (Think Occupy Wall St. Is A Phase? You Don't Get It., 2011). The politics of the past century stress the objective pursuit of goals for the broader public, emphasizing the common good. This tradition led to "the public interest to be defined around conventional positions… However another result is that dissident interests are disproportionately deprived…" (Lindblom, 1986, p. 349). This is precisely why Occupy Wall Street is so important to turn to for insight – this is perhaps the first model of a truly postmodern movement in the United States. Some might see the WTO protests in Seattle as an antecedent, and that event has an important genealogical place in the development of what we now see in New York. But in turning to the decision-making and processual aspects of Occupy Wall Street, we see that transparency and participation is embedded in this movement, and without a predetermined "cause," list of demands, or a clear beginning and end.
The actual physical arrangement, as well as the organizational technologies and the mechanisms for decision-making depict unique features of this newest movement. First, the occupying of a physical space emphasizes proximal origins. Without walls and doors dividing people, the occupiers are in constant interaction. Occupy Wall Street has a unique capability to develop politics through interaction among a variety of partisans, and through challenging existing structures – both institutional but also internalized – beyond the level of abstraction, and instead through practice. The capacity for power to be challenged and democracy to be exercised not through ideology and structures but through practical decision-making and action appears to better connect with findings in social research about how humans associate with and think about one another.
Second, the organizational technologies employed are explicitly participatory. Occupy Wall Street, without predetermined demands or goals, and with its General Assembly structure, allows participants to speak freely to shape its evolving politics. Decisions are concensed after anyone can take the open floor. This leads to synchronous yet slow decision-making. Asynchronous decision-making can lead to the prioritization of rationalizing, reduction to ideology, and a diminishing of the role of affect. Rapid decisions suppress certain voices and propel conventional thinking and action. Democracy that is direct and participatory is notoriously slow, however is deliberate and mindful: only those things worth the investment of time and cognitive energy are endeavored.
Additionally the use of human-scaled technologies pulls participants together. Amplification is banned in the parks in New York. To effectively communicate with a large crowd, speakers break up their communication into small phrases that are echoed by the crowd. Sometimes this occurs in succession, so the speech is transmitted in waves emitted away from the oratory among the audience. This is referred to as the "people's mic," which introduces reciprocity and feedback, thereby producing a democratic communication as opposed to "the more conventional Saussaurean model of sender-message-receiver, which so easily becomes the conservative media model that produces non-communication" (Mason, 2011). When author of The Shock Doctrine, Naomi Klein, spoke at Occupy Wall Street, she characterized the people's mic as encouraging one to "Say unto others what you would have them say unto you, only way louder" (Occupy Wall Street: The Most Important Thing in the World Now, 2011). This is a human-scaled technology in the most literal sense.
Too often we are apprised of complicated or muddling explanations of a predicament and offered simplistic and reductionist recommendations for a way out of it. Occupy New York offers a break from this tradition. The financial crisis is their (the 1%'s) crisis, yet we (the 99%) have to bear the brunt of it. What Occupy Wall Street encourages is an attention to practice and process. While the liberal democratic state has failed to integrate pluralism, Occupy Wall Street shows the degree to which transparency and participation is essential for partisan politics to play out. Further, it lacks both the demand for the feasible and the focus toward official representatives (c.f. Lindblom, 1986). These critical aspects are embedded in the very processes, organizations and technologies employed by Occupy Wall Street, and thus its commitment to democracy is not merely ideological but also practical. None of this is to say that Occupy Wall Street will take monumental steps forward; rather, the argument is that this model enables such steps while the existing political, organizational and technological structures prohibit them.
This blog has been heavily redacted from its original version, and an updated and revised version now appears in the journal Humanity & Society (February 2012).
Works Cited
Agamben, G. (2000). Means Without End: Notes on Politics. (V. Binetti, & C. Casarino, Trans.) Minneapolis: University of Minnesota Press.
Al-Jazeera. (2011, October 8). US Activists Have Lost Trust in Politicians. Retrieved October 8, 2011, from Al-Jazeera English: http://english.aljazeera.net/video/americas/2011/10/201110814017891684.html
Bellafante, G. (2011, September 23). Gunning for Wall Street, With Faulty Aim. Retrieved October 4, 2011, from The New York Times: http://www.nytimes.com/2011/09/25/nyregion/protesters-are-gunning-for-wall-street-with-faulty-aim.html?_r=1
Day, R. J. (2005). Gramsci Is Dead: Anarchist Currents in the Newest Social Movements. London: Pluto Press.
General Assembly. (2011, September 30). Occupy Wall Street. Retrieved October 4, 2011, from First Official Release from Occupy Wall Street: http://occupywallst.org/forum/first-official-release-from-occupy-wall-street/
Gorton, G. B. (2010). Questions and Answers about the Financial Crisis. Cambridge, MA: National Bureau of Economic Research.
Grant, D. (2011, October 3). Occupy Wall Street Activist Slams Fox News Producer in Un-Aired Interview. Retrieved October 4, 2011, from The New York Observer: http://www.observer.com/2011/10/exclusive-occupy-wall-street-activist-slams-fox-news-anchor-in-un-aired-interview-video/
Issa, D. (2011). Unaffordable Housing and Political Kickbacks. Harvard Journal of Law & Public Policy , 33 (2), 407-419.
Jenkins, S. (2009, July 15). When the Going Gets Tough, the Economists Go Very Quiet. Retrieved October 4, 2011, from Kick It Over: http://kickitover.org/2009/07/15/when-going-gets-tough-economists-go-very-quiet.
Klein, N. (2011, October 7). Occupy Wall Street: The Most Important Thing in the World Now. Retrieved October 7, 2011, from The Nation: http://www.thenation.com/article/163844/occupy-wall-street-most-important-thing-world-now
Kling, A. (2011). The Financial Crisis: Moral Failure or Cognitive Failure? Harvard Journal of Law & Public Policy , 33 (2), 508-518.
Lindblom, C. E. (1986). Who Needs What Social Research for Policymaking? Knowledge: Creation, Diffusion, Utilization , 7 (4), 345-365.
Maas, A., & Suitner, C. (2011). Spatial Constraints on Social Cognition. Social Psychology , 42 (3), 159-164.
Mason, J. (2011, October 8), personal communication.
McMillan, G. (2011, October 3). Move Over, Twitter: 'Occupy Wall Street' Activists Feel the 'Vibe'. Retrieved October 8, 2011, from Time: Techland: http://techland.time.com/2011/10/03/move-over-twitter-occupy-wall-street-activists-feel-the-vibe/
Moynihan, C. (2011, September 18). Protesters Find Wall Street Off Limits. Retrieved October 7, 2011, from The New York Times: http://query.nytimes.com/gst/fullpage.html?res=9F01E7D91F3CF93BA2575AC0A9679D8B63
Occupy Together. (2011, October 8). Occupy Together Meetups Everywhere. Retrieved October 8, 2011, from Occupy Together: http://www.meetup.com/occupytogether/
Poole, W. (2010). Causes and Consequences of the Financial Crisis 2007-2009. Harvard Journal of Law & Public Policy , 33 (2), 422-441.
Rushkoff, D. (2011, October 5). Think Occupy Wall St. Is A Phase? You Don't Get It. Retrieved October 5, 2011, from CNN: http://edition.cnn.com/2011/10/05/opinion/rushkoff-occupy-wall-street/index.html
Schwarz, N., & Clore, G. L. (2007). Feelings and Phenomenal Experiences. In A. W. Kruglanski, & E. T. Higgins, Social Psychology: Handbook of Basic Principles (Second Edition ed., pp. 385-407). New York: The Guilford Press.